Basic Info
Acne is the most frequently diagnosed skin condition in the United States.
What is acne?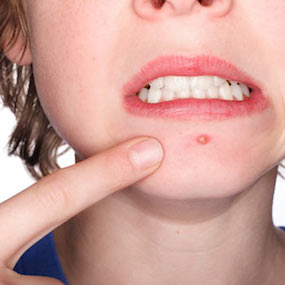 It is characterized by pimples that appear on the face, back and chest. Every year, about 80% of adolescents have some form of acne and about 5% of adults experience acne.
Whiteheads/Blackheads, also known as comedones, are non-inflammatory and appear more on the face and shoulders. While they can lead to scarring, it is unlikely as long as they remain uninfected.
Red Pustules or Papules are inflamed pores that fill with pus and these can lead to scarring.
What causes acne?
In normal skin, oil glands under the skin, known as sebaceous glands, produce an oily substance called sebum. The sebum moves from the bottom to the top of each hair follicle and then spills out onto the surface of the skin, taking with it sloughed-off skin cells.
With acne, the structure through which the sebum flows gets clogged. This blockage traps sebum and sloughed-off cells below the skin, preventing them from being released onto the skin's surface. If the pore's opening is fully blocked, this produces a whitehead. On the other hand, if the pore's opening is open or partially blocked, this produces blackheads. When either a whitehead or blackhead becomes inflamed, they can become red pustules or papules.
RI Dermatology and Cosmetic center is committed to providing advanced aesthetic enhancements and Anti-Aging Medical treatments through MD developed, and supervised services.
Our Staff is highly skilled and trained to perform with the most modern technology. Reduce wrinkles, reduce sun damage, reduce spider veins, tighten skin, remove unwanted hair, and more!
Get driving directions and make an appointment now.
Call Us Today
Lincoln, RI